"Aunt, Uncle, Brothers, and Sisters from abroad choose to have dental implants in their homeland to save costs three times less than treatment abroad, with equivalent quality. However, to have a successful dental treatment trip back to the homeland, according to the planned schedule, Aunt, Uncle, Brothers, and Sisters should not overlook the following important considerations."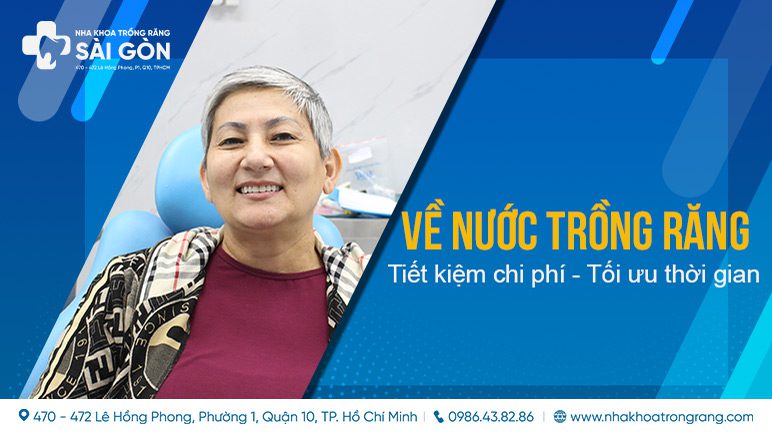 5 Benefits of Getting Dental Implants in the Homeland
The demand for dental treatments among Vietnamese overseas residents has been steadily increasing in recent times. Below are some reasons why many people consider choosing Vietnam for dental implantation instead of getting dental work done abroad:
Affordable Prices: Dental implants in Vietnam often come with lower costs compared to many other developed countries. This can help you save money while still receiving high-quality treatment without the hefty price tag.
Medical Quality: Vietnam boasts many skilled dental implant specialists with years of experience, adept at using modern medical equipment and employing advanced dental implant techniques. Numerous reputable dental clinics in Vietnam meet international standards, providing the best possible experience for patients.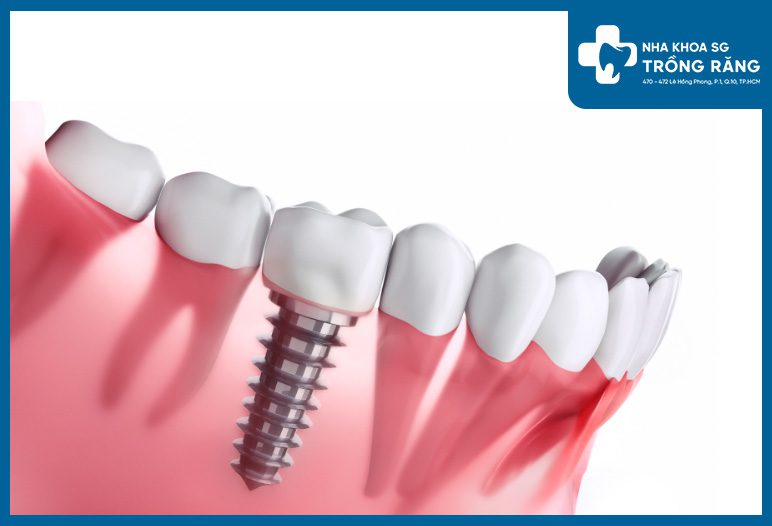 Diverse Dental Services: Vietnam offers a variety of choices for dental implants, porcelain veneers, and other tooth replacement methods. This means you can select the method that best suits your needs and personal budget.
Language and Culture: Vietnamese dentists understand the psychology, aesthetic preferences, and needs of people from East Asia. Additionally, you will experience the diverse and interesting cultural environment of Vietnam.
Support from Loved Ones after Treatment: In case you need support from family or friends, getting dental treatment in your homeland can make it easier for you to access care and support from your loved ones during the treatment process.
With all these reasons, getting dental implants in the homeland is a smart and effective choice for those who want to enhance the appearance and function of their teeth efficiently at a reasonable cost. With a combination of high expertise, reasonable costs, and aesthetic considerations, Vietnam is becoming an ideal destination for those who want to have a perfect and confident smile.
5 Considerations When Returning to the Homeland for Dental Implants
Seeking dental treatment in the homeland brings numerous benefits for overseas Vietnamese patients. However, for a successful dental implantation trip, it's essential for individuals to consider the following issues:
Treatment Duration
Many overseas Vietnamese have limited time for their stay in Vietnam, often just a few weeks. Therefore, scheduling the treatment at a suitable time is a significant concern. To avoid time constraints, overseas Vietnamese patients can contact the dental clinic in advance via email or WhatsApp for consultation on the treatment plan and the required time for dental implantation. This helps in organizing the most appropriate schedule for the trip back to Vietnam.
Dental Implant Costs in Vietnam
The costs of dental implants and porcelain veneers in Vietnam are typically lower than those in foreign countries. To have financial control, overseas customers should seek transparent dental clinics that provide upfront information about treatment costs.
Warranty Policies and Post-Treatment Support
For overseas customers, warranty policies often include special support and care services. Dental clinics may offer assistance with accommodation, transportation, interpretation, and guidance on local culture to help customers easily integrate into the new environment.
Dentist's Expertise
Choosing a dentist specialized in dental implants, restorative dentistry, and cosmetic dentistry is crucial for favorable results and avoiding complications in the future. Before returning to the homeland for dental implants, individuals can research information about skilled Maxillofacial surgeons in Vietnam to make an informed choice based on their needs.
Communication
Clear communication is vital for a successful dental implantation experience. Patients should ensure effective communication with the dental clinic regarding treatment plans, expectations, and any concerns they may have. This helps establish a mutual understanding and ensures a smoother treatment process.
In summary, returning to the homeland for dental implants is a wise and effective choice, providing individuals with an opportunity to enhance their dental aesthetics and functionality at a reasonable cost. With careful consideration of these factors, Vietnam is becoming an increasingly attractive destination for those seeking a perfect and confident smile.
Choosing a Reliable Dental Clinic for Dental Implants
The success of a dental implantation trip back to the homeland largely depends on the dental clinic selected by individuals. Therefore, seeking a reputable dental clinic that meets all legal requirements, including operating licenses, practitioners with professional certifications, and specialized training certificates for dental implants, is crucial. This ensures a reduced risk and provides the best possible experience for patients. This will help mitigate risks and ensure the best experience for patients.
Dental Implantation Address for Overseas Vietnamese Returning for Dental Treatment
Saigon Dental Implant Clinic – A leading and reputable dental implantation address in Ho Chi Minh City.
Sai Gon Dental Implant Clinic is a leading and reputable dental clinic in Ho Chi Minh City. The clinic is home to experts at the forefront of Maxillofacial Dentistry, dental implantation, and cosmetic restorations. With over 20 years of experience, the clinic is a preferred choice for many local and international clients.
The services offered at Sai Gon Dental Implant Clinic, particularly full-mouth dental implantation and cosmetic porcelain dental restorations, have attracted the attention of numerous clients from abroad and Vietnamese expatriates from countries such as Australia, the United States, Canada, the United Kingdom, and Japan. This is attributed to the clinic's possession of five strengths that are rarely found in dental clinics throughout Vietnam.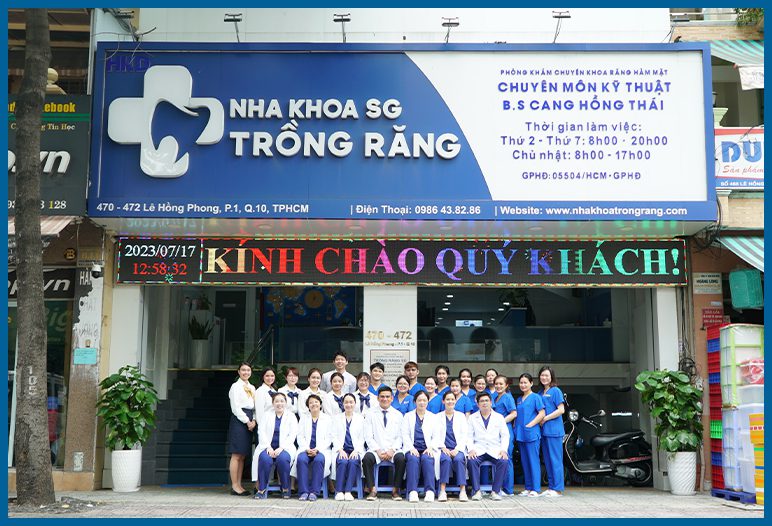 The dental clinic boasts a team of leading Maxillofacial Dentistry specialists with over 20 years of experience. The dental implantation and cosmetic restoration practitioners hold certifications in dental implantation and aesthetic restorations from the Implant Institute. Prominent names in the team include Dr. CKI Cang Hong Thai, Dr. CKI Le Ngoc Quynh, Dr. CKI Tran Thi My Nga, Dr. CKI Le Thi Hien, among others.
The dentists have a profound understanding of the Vietnamese mindset and provide consultations on designing the shape and color of teeth that complement the skin tone and facial features of East Asian individuals.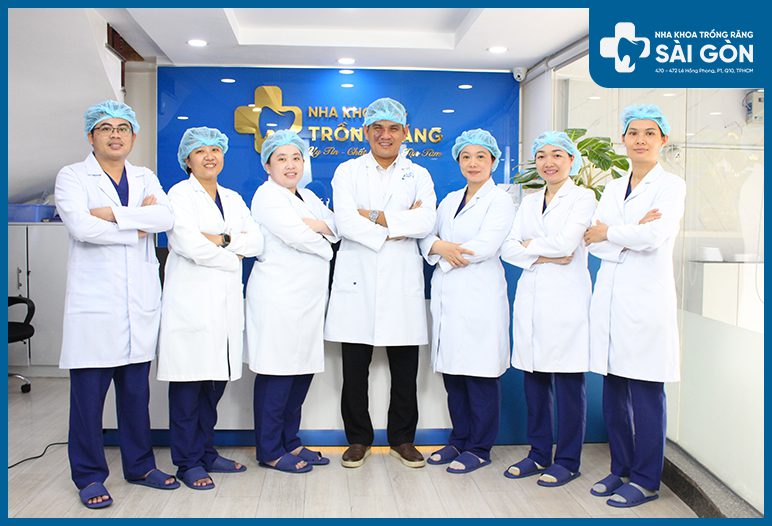 The dentists at Sai Gon Dental Implant Clinic are always ready to serve customers at any time. Additionally, the clinic and its practitioners accommodate the schedules of Vietnamese expatriates when they visit Vietnam for tourism or to visit relatives. This flexibility allows individuals to seamlessly combine their dental cosmetic procedures with their travel plans.
Transparent Pricing
The dental clinic offers comprehensive services with no unexpected additional fees during the treatment process. This clinic also provides more budget-friendly pricing compared to many other dental facilities in Vietnam, thanks to various attractive discount programs.
With superior service quality and the potential to save up to three times the cost compared to other countries, Sai Gon Dental Implant Clinic is an ideal choice for those seeking high-quality dental treatments while being mindful of their financial considerations.
| | | |
| --- | --- | --- |
| Service | Cost (VND) | Unit |
| Single Implant | 13.500.000 – 34.200.000 | Per Tooth |
| Full-mouth Implant | 126.900.000 – 269.100.000 | Full Mouth |
| Porcelain Crown | 1.400.000 – 6.000.000 | Per Tooth |
Optimized Treatment Plan in Terms of Time
The clinic optimizes the treatment process, providing swift dental services that save time and minimize waiting periods. For instance, the All On X implantation and cosmetic porcelain dental restoration process can be completed within a timeframe ranging from 3 to 7 days. This is a key strength that attracts overseas Vietnamese to choose Sai Gon Dental Implant Clinic, as it offers time efficiency and precise scheduling for customers.
To further save time, doctors remotely prescribe treatment plans for customers. This allows individuals to take a more proactive approach to their dental implantation plans.
Utilizing Advanced Dental Technology
Sai Gon Dental Implant Clinic delivers superior dental implantation services, using 100% premium imported materials. This modern dental clinic adheres to European standards and invests in state-of-the-art machinery and facilities, utilizing top-quality imported materials. This ensures that the dental services provided here are on par with those in the United States, Germany, Australia, and other countries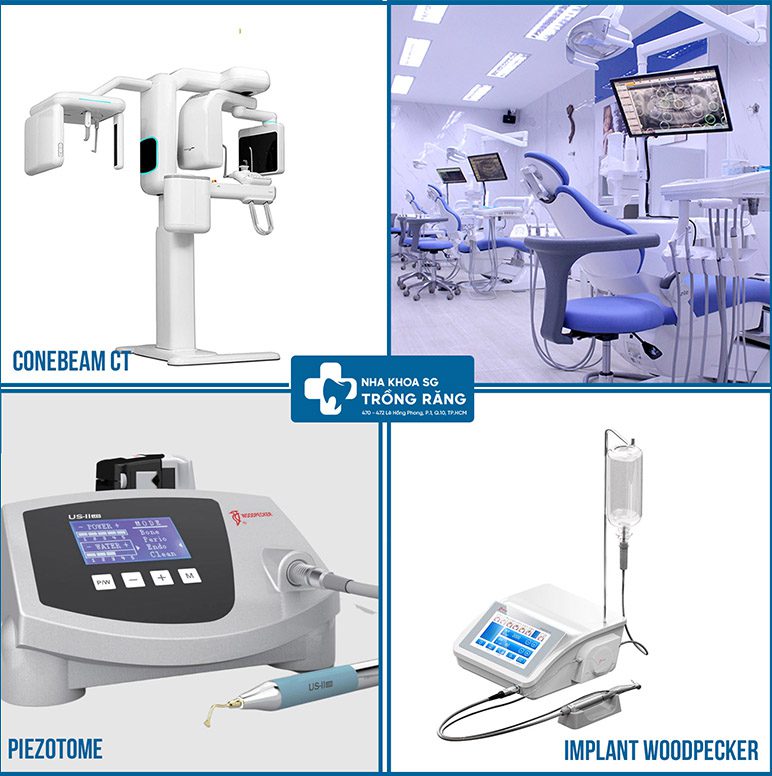 When customers come to Sai Gon Dental Implant Clinic for dental implantation, they will receive detailed consultations on top-tier imported implant brands, including Nobel Biocare, Neodent, Superline, and Straumann.
For those opting for cosmetic porcelain dental services, such as veneers, they will be advised on the use of the latest 3D CAD/CAM technology and high-quality ceramics like Zirconia, Cercon HT, Lava Plus, Veneer Emax Press, etc. These are all premium ceramic materials highly favored in the field of cosmetic dentistry at international dental centers.
Customer Policies
Sai Gon Dental Implant Clinic commits to providing long-term warranties of up to 20 years for both dental implantation and cosmetic porcelain dental services. Particularly, customers have the privilege to inspect the origin and labels of materials before the dentist proceeds with dental implantation or porcelain dental work.
The clinic offers appointment scheduling, free check-ups, and consultations, including complimentary dental X-rays. This is an exclusive benefit for customers, encouraging everyone to prioritize their oral health and facilitating convenient access to dental appointments without concerns about examination fees.
Overseas Vietnamese Patients Returning to Vietnam for Dental Implants at Sai Gon Dental Implant Clinic
Over the course of more than 20 years in operation, Sai Gon Dental Implant Clinic takes pride in being a leading and reputable dental facility in Vietnam. With a successful track record, over 8,000 overseas Vietnamese and international customers have undergone dental treatments here.
Below are some images of customers who have returned to Vietnam for dental treatments at the dental clinic. The transformation in their smiles marks a new beginning, providing additional motivation for Sai Gon Dental Implant Clinic's customers to live healthier and happier lives with each passing day.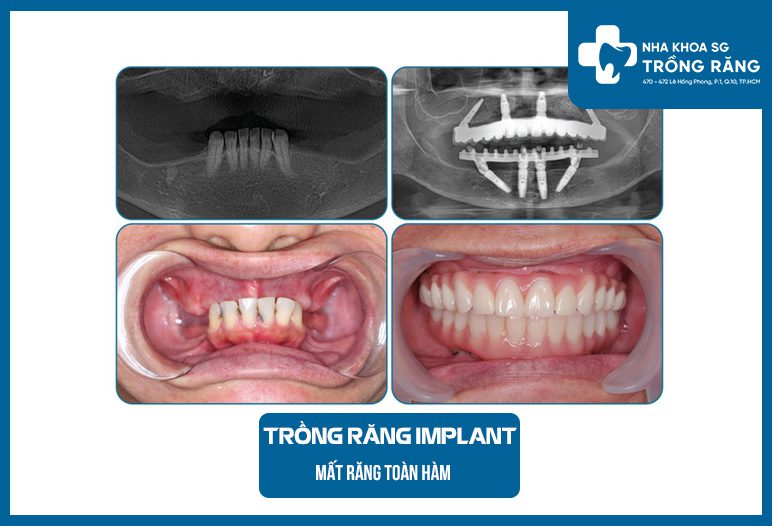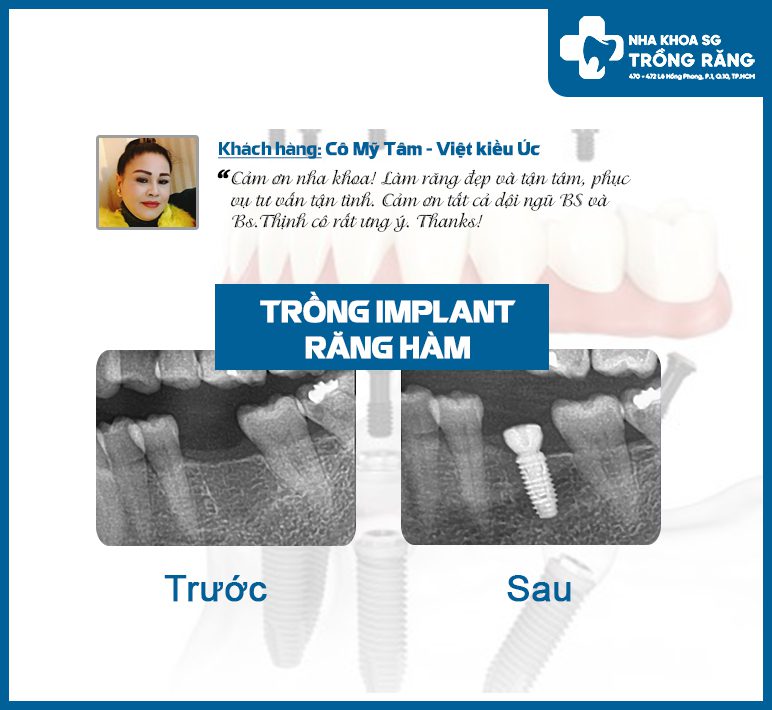 Many overseas Vietnamese customers have happily shared their experiences with dental treatments at Sai Gon Dental Implant Clinic. Below are some testimonials from customers who have undergone dental implantation and porcelain dental work at the clinic.
CUSTOMERS RETURNING TO VIETNAM FOR DENTAL IMPLANTS AT SAI GON DENTAL IMPLANT CLINIC
CUSTOMERS RETURNING TO VIETNAM FOR PORCELAIN DENTAL IMPLANTS AT SAI GON DENTAL IMPLANT CLINIC
Customer Reviews
Sai Gon Dental Implant Clinic has achieved a rating of 4.9/5 stars on Google Reviews, with numerous positive feedback and praise. 100% of customers express satisfaction with the treatment results and are willing to recommend the clinic to friends and family in need.
Here are some reviews that serve as clear evidence of the clinic's reputation and service quality.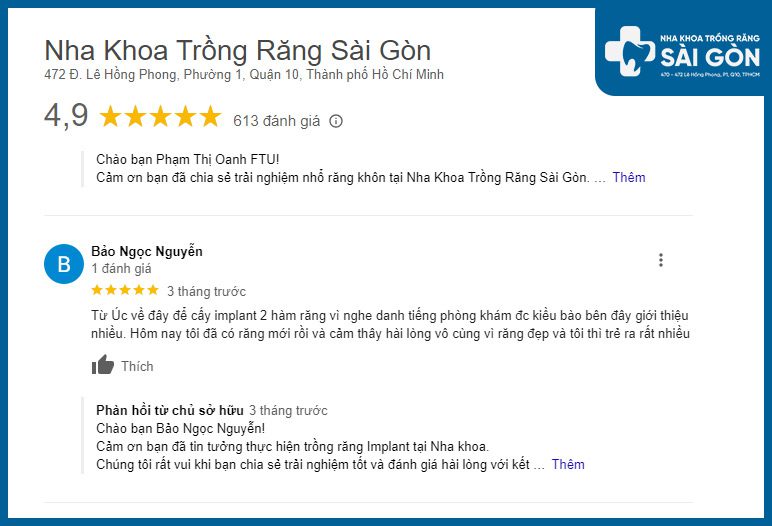 With the information provided, it is hoped that you will have a successful dental implantation journey, just as expected. For consultation, appointment scheduling, or remote planning, please contact us via Email: nhakhoatrongrang@gmail.com or Hotline: 0986.43.82.86 for the quickest support!