Saigon Implant Dental Center operates under the expertise and professional guidance of Dr. CKI Cang Hong Thai, who has over 20 years of experience in dental implantation, restorative dentistry, and aesthetic dentistry.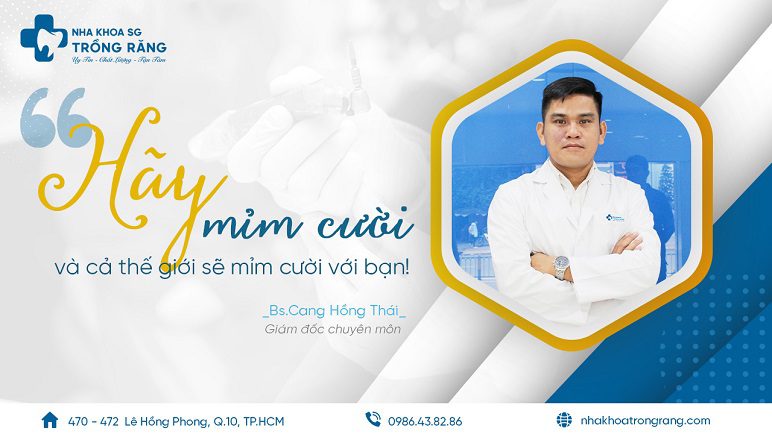 In treatment, Dr. CKI Cang Hong Thai always listens to the patient's needs and addresses any psychological concerns. Every treatment plan is designed to minimize intrusion and damage to the natural teeth, soft tissues, and jawbone, providing the best possible experience in dental care.
Specialist
General dentistry examination, consultation, and treatment planning.
Dental implant surgery.
Oral and maxillofacial surgery.
Porcelain tooth restoration; Dental bridge.
Orthodontic braces.
Cosmetic dentistry.
Experience
Specialist with over 20 years of expertise in dental implantation, orthodontics, and aesthetic dental restoration.
Worked at Rang Ham Mat Hospital and Ho Chi Minh City University of Medicine and Pharmacy before establishing and serving as the Director of Professional Nha Khoa Trong Rang Sai Gon.
Education
Graduated as a Doctor of Dentistry.
Completed a postgraduate certificate in aesthetic dentistry from the Vietnam-France Interuniversity (Bordeaux II University).
Implant Surgery certificate from Dentium Implant Institute, South Korea.
Participated in continuous training on Implant and supporting techniques.
Attended a Laser Dentistry course at the World Clinical Laser Institute.
Various specialized certificates obtained in Thailand, Singapore, South Korea, and the United States.
Licensed by the Ho Chi Minh City Department of Health to establish and operate Nha Khoa Trong Rang Sai Gon dental clinic.
Member of
American Association of Orthodontists (AAO)
World Federation of Orthodontics (WFO)
Video bác sĩ Cang Hồng Thái cắm ghép Implant
Doctor Cang Hong Thai always upholds ethics, possesses excellent professional skills, loves the profession, regularly updates new knowledge, has a high sense of responsibility, and is dedicated to the work. Through these qualities, he aims to bring confident smiles to even more patients.