With the motto "Reputation – Quality – Devotion," Trong Rang Dental Clinic SG always ensures optimal benefits for customers using our dental services. This commitment is reflected in clear and specific warranty policies for each service.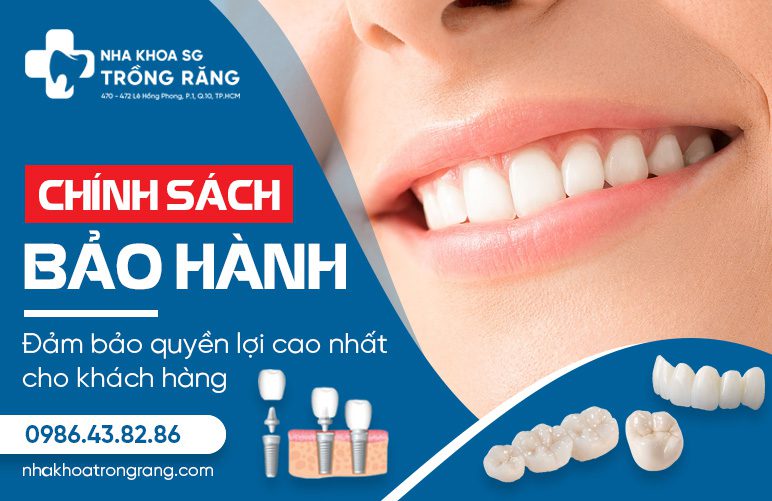 Warranty Application for Services
SERVICE
WARRANTY PERIOD

Răng Implant

Long-term support
Porcelain Teeth
Metal Standard
3 years
Titanium
3 years
All-ceramic Ddbio
5 years
Zirconia Lava Plus
20 years
VENEERS EMAX
10 years
For these services, customers are kindly requested to bring the warranty card.
Saigon Implant Dental Center applies genuine warranties (for porcelain teeth, Implant) and provides warranty support from the dental clinic. The warranty details, regulations, and conditions are clearly stated on the warranty card and accompanying documents.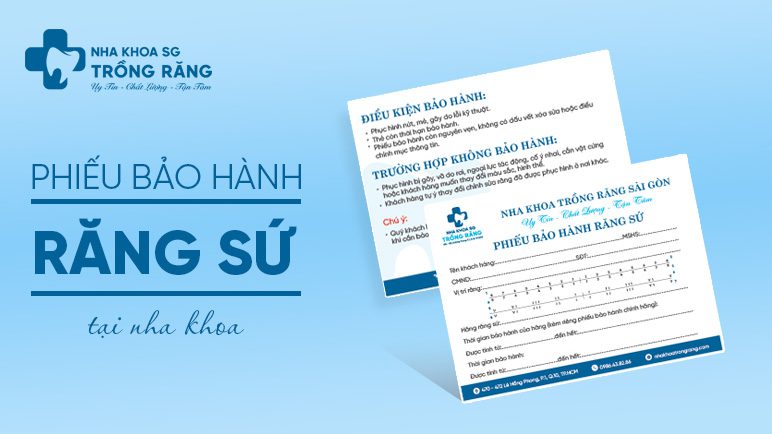 Warranty Conditions:
Being a customer using products and services of Saigon Implant Dental Center.
The warranty card is still valid, intact, not erased, or altered.
The information on the card matches the customer data at Saigon Implant Dental Center.
Conducting follow-up examinations, taking X-rays as scheduled (if any).
Performing at-home dental care according to the dentist's instructions.
In case a customer loses the card, if the customer can be identified as Saigon Implant Dental Center's customer and satisfies the warranty conditions, the customer will still be entitled to the warranty according to the policy.
Cases not covered by the warranty:
Expired warranty period.
Cases that do not ensure oral hygiene (smoking, improper oral hygiene…).
Cases not following the scheduled follow-up examinations.
Cases where new diseases affecting the oral condition appear after the treatment at the clinic (diabetes, osteoporosis, cancer radiation therapy, epilepsy, teeth grinding…).
Cases of injury due to accidents, sports, or other reasons.
Cases of natural tooth or dental decay.
Cases of previous treatments not performed by Saigon Implant Dental Center.
Cases where patients want to change the treatment results compared to the agreed-upon plan with the previous dentist.
Cases of treatment based on patient requests, even if the dentist warned that the teeth might loosen, break, or not be durable.
Cases with the intervention of another doctor before returning to the dental clinic.
Cases caused intentionally by the customer.
Contact Information for Consultation Services
If you have any unclear issues regarding the warranty policy and warranty support at Saigon Implant Dental Center, please feel free to contact Saigon Implant Dental Center directly through the Hotline 0986.43.82.86 or visit the dental clinic for consultation:
SAIGON IMPLANT DENTAL CENTER
♦ Address: 470-472 Le Hong Phong, Ward 1, District 10, Ho Chi Minh City
Phone: (028) 6686 9386
Hotline: 0986.43.82.86 (with Zalo, Viber)
Email: nhakhoatrongrang@gmail.com
Website: https://nhakhoatrongrang.com/
Facebook: FB.com/trongrang.nhakhoa
WORKING HOURS:
Monday – Saturday: 8:00 AM to 8:00 PM
Sunday: 8:00 AM to 5:00 PM